Dr. Kelly Rusteika - General and Family Dentist in Regina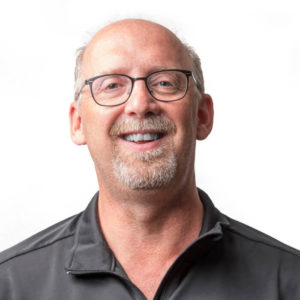 Dr. Kelly Rusteika is a general dentist in Regina who has been practicing General and Cosmetic dentistry for over 25 years. He graduated with a Doctor of Dental Medicine degree (D.M.D.) from the University of Saskatchewan in 1990 and has been practicing dentistry in Regina ever since then. Initially, out of college, Dr. Rusteika was an associate at Broadway Avenue Clinic with Dr. Jim Orpe. In July of 1991, he purchased Dr. Henry Kinzel's practice in Downtown Regina. Then in December of 1997, the clinic was moved to it's current location in the Southland Mall.
Dr. Rusteika is a born and raised in Saskatchewan. He married his wonderful wife Brenda in 1991 and they had three sons. He is a dedicated family man who is particularly proud of his children's accomplishments educationally. Dr. Rusteika enjoys spending quality time at the lake with his family, cheering on the Saskatchewan Roughriders, Regina Pats and other local sports teams, has a passionate heart for animals including the Regina Humane Society and other local initiatives.
Dr. Rusteika has always been very interested in the new developments in dentistry. His commitment to dental technology and education provides patients with the state-of-the-art solutions to meet all your dental needs. He has incorporated Orthodontics into his practice for over 25 years. He has used different lasers for years in his practice and finds that doing so reduce post-op discomfort and speeds up many procedures. Dr. Rusteika finds Dentistry exciting and the new developments amazing. Dr. Rusteika endeavors to treat all his patients "like family" and to provide the best treatment possible.
New patients are always welcome! Let's discuss your dental health together.
Southland Dental Clinic of Regina
2905 Gordon Rd, Regina, SK S4S 6H7
Monday: 7:30am-4pm
Tuesday: 7:30am-4pm
Wednesday: 7:30am-4pm
Thursday: 7:30am-4pm
1990
DMD Graduate – Dr Rusteika graduates from the University of Saskatchewan
1990
Associate Dentist – Dr. Rusteika becomes associate dentist with Dr. Orpe at Broadway Ave Clinic
1991
Purchased Downtown Regina Dental Practice. Dr. Rusteika purchases Dr. Henry Kinzel Practice in Downtown Regina
1997
Southland Dental Opens. Dr. Rusteika moves practice from Downtown Regina to the current location today in Southland Mall.
2007
LVI Training – Dr Rusteika finishes studies at Las Vegas Institute for Dental Education.
2015
25 Years of Dental Practice. Dr. Rusteika celebrates 25 years in the dental profession.
New patients are always welcome! Let's discuss your dental health together.